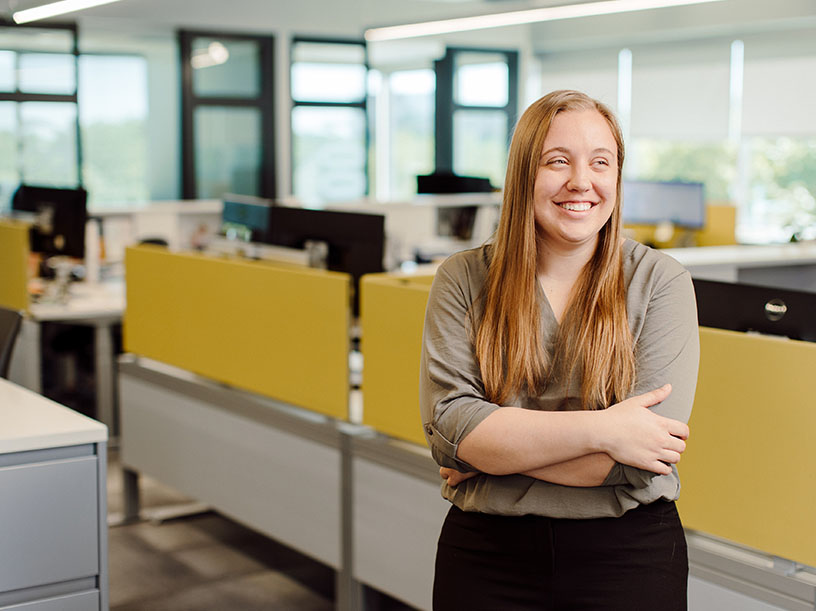 Bailey Gocke
Architecture Staff
Bailey is a part of a professional development model that fosters design and construction career pathways known as the Apprentice Academy.  This program provides participants with actual projects to integrate purposefully applied academics with real-world practice experiences.  These experiences are structured in a sequential way that accelerates their pathway concurrently with their secondary and post-secondary academic tracks.  Bailey is one of ten college interns in an architecture program at either the University of Nebraska-Lincoln, Kansas State, or Iowa State.
We at BCDM are happy to add her to the Apprentice Academy and BCDM this summer.
Academic
University of Nebraska-Lincoln 2023
Master of Architecture
University of Nebraska-Lincoln
Bachelor of Science in Design
How did you become interested in this field?
I have always been interested in architecture. When I was 3-4 years old, I had a doll house that I would remodel and demo almost every day. From there I just tried to keep showing creativity in different ways like quilting and sewing. In high school, I was looking for a career path that allowed me to use both my creative side and the technical side at the same time, which led me directly into Architecture. From there it has been a win-win situation since I get to use both sides of my brain at the same time!
What was your favorite place you have traveled and why?
During my undergraduate, as a studio, we took a trip to LA for a couple days. We had the chance to visit the Sheats-Goldstein House, where we toured the entire house and saw all the latest additions that were added to the property. We also visited the Eames House, LACMA, and the Broad. This trip was all about the architecture and exposing us to as many different types as our professor could find; and walking on the beach every morning was an added bonus!