An addition to address growth
Prairie Queen Elementary is the newest addition to the Papillion La Vista School District. This one-story school is located just north of the Werner Park baseball stadium, within the developing North Shore subdivision, and includes a preschool classroom as well as three sections of Kindergarten through the 6th grade.
Client:
Papillion La Vista Community Schools
Designed for the students' security
The school is designed with security and access control in mind as visitors enter through a security vestibule into the receptionist/waiting area. In addition to having visual and physical control of the front entry doors, the receptionist also has lines of sight into the central commons area. There is a multi-purpose gymnasium/cafeteria space, a warming kitchen and support spaces, an art room, media center, and staff offices located within the west half of the building. Opening up to the gymnasium is a stage for presentations and performances that also doubles as the music classroom.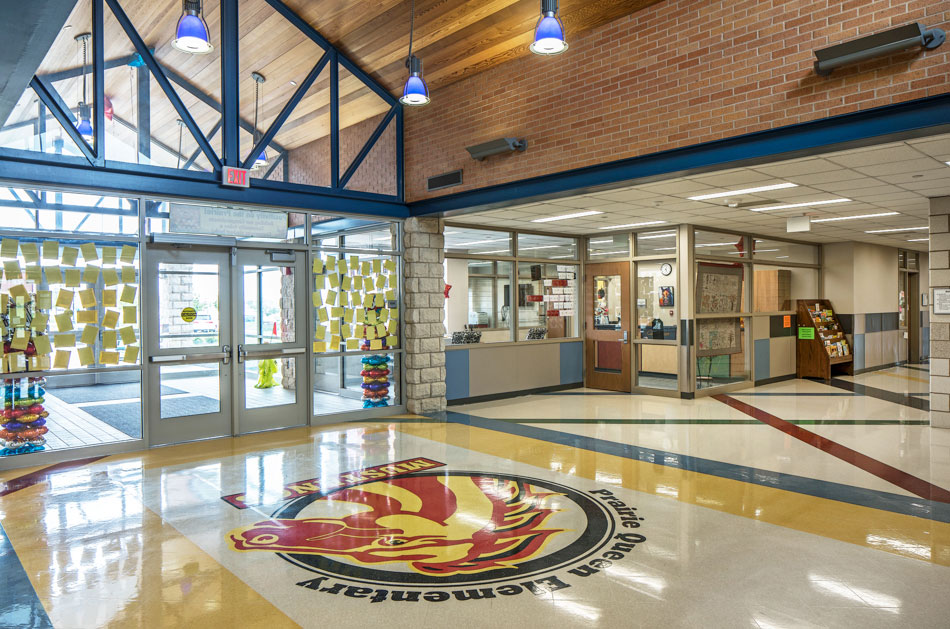 Access to the grade-level classrooms within the east half of the building is via a single corridor off of the central commons area, within sight of the receptionist. The classes are separated into four distinct wings that ascend in grade level from the commons area. The classroom wings also contain a special education classroom and small group breakout rooms to facilitate different teaching methods and learning styles.
The site is designed for one-way traffic, for student drop-off and pick-up, and contains a geothermal loop field, a paved play area, and a playground space. The site and utilities have also been designed to accommodate potential, temporary classroom buildings and future building additions.